Power2Peer hosted another successful event at the Venture Development Center, as clean energy and blockchain enthusiasts gathered to learn about the future of the clean energy marketplace.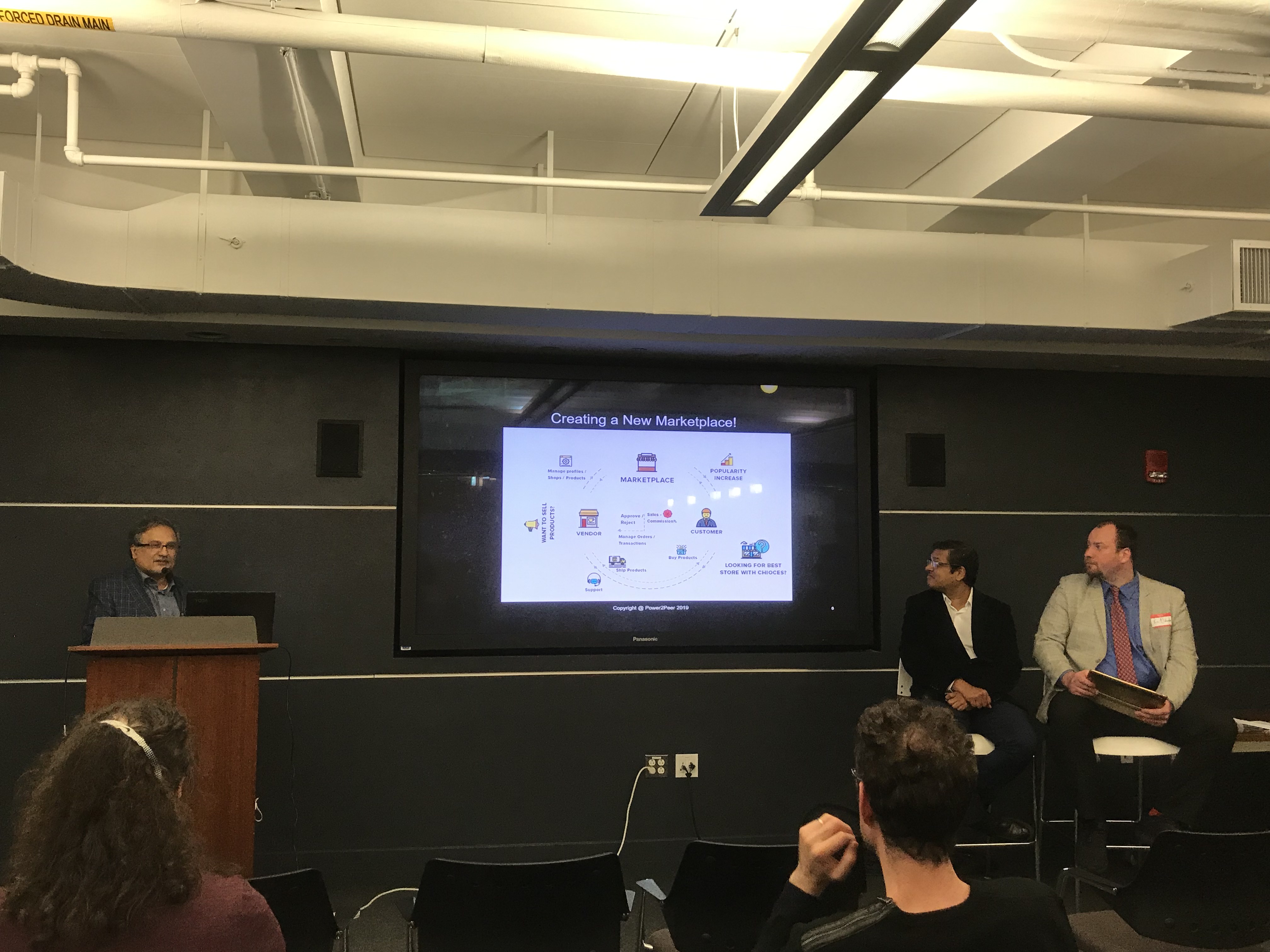 Dr. Nish Sonwalkar provided an overview of the clean energy marketplace, explaining its current limitations. Presently, there is no functioning market for clean energy marketplace, something that Power2Peer hopes to address with the rollout of P2PConnect, a peer-to-peer energy trading mobile application.
With a global market cap of over $1.5T annually, digital marketplaces have become the new norm. But renewable energy has yet to take advantage of this phenomenon.
"If you want clean energy to proliferate across the globe," Dr. Sonwalkar said, "you have to have a global clean energy marketplace."
One of the advantages of a decentralized clean energy marketplace is that it creates a more efficient system for managing resources. Nearly 10% of our electricity is lost in transmission as it travels across the grid to reach its end user from its source.
Another key advantage of a decentralized grid is security. Guest speaker and IoT expert Amitesh Singh raised the issue of cybersecurity as it pertains to our power supply.
"With the grid now, one point of failure means that hackers can gain access to an entire power station and control it as they wish," Singh said. "The idea of a decentralized grid is intriguing for security reasons in that there is no possibility of infiltrating through one point of failure; rather the network is distributed among peers."
Financial advisor and financial technology specialist Ra Mahadev also expressed his enthusiasm about the prospect of providing more widespread access to clean energy at a cheaper cost, calling it a "no-brainer."
"I think that a lot of young people would be eager to buy clean energy, but don't necessarily have the resources to install a solar panel of their own," Mahadev said. "Especially if the clean energy is going to be cheaper than the other sources, I think the clean energy marketplace is really a no-brainer."
After the panelists had concluded their remarks, Dr. Sonwalkar opened the forum to questions from the audience. Notable among them was blockchain veteran Chris Tyler, who was an early adopter of blockchain technology and has continued to think deeply about its potential applications.
"Approaching blockchain from a philosophical angle really made me see how it would disrupt the financial industry, and as a former energy trader, the idea of energy co-ops has always seemed to be a near-perfect use case for blockchain," Tyler said.
Concluding the evening, Dr. Sonwalkar called on his audience to continue to collaborate toward innovative solutions to curbing carbon emissions. "The movement we are building is grass roots, not top-down," Dr. Sonwalkar said.
You can learn more about Power2Peer's innovative vision here. Stay tuned for more news and events coming your way soon!