New Jersey, Massachusetts top list as best places to invest
Throughout the United States, people are opting to invest in solar. Many are brought on board partially by the social impact of their investment. In fact, depending on the range of incentives offered by their state, the average residential solar panel owner can also expect their 25-year investment to produce a return of around 10%—a competitive figure given its security. For particularly solar-friendly states like Massachusetts, the estimated IRR can be as much as 28.5%.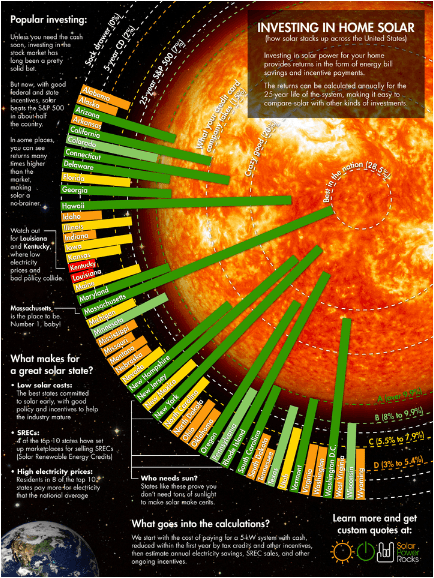 To help keep track of the pros and cons and evaluate how each state's solar incentives stack up, solar consult group Solar Power Rocks compiles a power ranking of the most solar-friendly U.S. states to invest in. Each state is graded on a rubric accounting for the variety of ways state-level policy can make investing in residential solar more attractive. These include such metrics as tax credits, rebates, overall payback time, and internal rate of return.
As you can see, there are several states who still have some catching up to do to overtake the 7% S&P 500 estimated return, but many are well beyond that. Even in those states at the bottom of the list, investors can still expect a return comparable to basic CDs. On the other hand, the top five states for solar all boast returns greater than 20%, with Massachusetts leading the pack at 28.5%. For the nation's two most economically important states, New York and California, returns fall in the 15-25% range.
Power2Peer is a Boston-based solar energy peer-to-peer trading platform company equipped with cutting edge technology that will further enhance returns on solar investments. With Power2Peer's easy-to-use blockchain-secured mobile application, customers will be able to buy and sell clean energy with other producers and consumers. This boosts efficiency by making better use of daytime energy, thereby shortening payback periods for investors. Power2Peer hopes to become a leader in the "roof-to-cable" energy movement, providing clean, local energy at lower costs. Join the Power2Peer mission today by investing in our equity crowdfunding campaign. Together, we can make sustainability a financial no-brainer.