Regulators slap down handout, divestment snowballs as NYC takes fossil fuels to court
Just two weeks into the new year, 2018 is already promising to be a time of major interest and investment in green energy. Within a span of 36 hours last week, it came down that U.S. federal regulators had rejected Secretary of Energy Rick Perry's proposal to further subsidize coal and oil, and that in fact five major fossil fuel corporations are being sued in a lawsuit announced by New York City mayor Bill de Blasio.
With the lawsuit, the City of New York is seeking billions in reparations from BP, Chevron, Conoco-Phillips, ExxonMobil, and Royal Dutch Shell for damages resulting from willful negligence regarding the impact of fossil fuels on climate change and the environment, manifest most dramatically in New York in 2012 with the destruction of life and property caused by Hurricane Sandy. As has been the case with more recent superstorms such as Irma and Maria, one of the biggest obstacles New Yorkers faced following Sandy was restoring grid power in the wake of major flood damage.
The Federal Energy Regulatory Commision's decision, announced late last Monday, rejected Secretary Perry's proposal to subsidize oil and coal in response to the problem of grid resilience. As 2017 was a year that again saw record-breaking temperatures as well as the most destructive hurricane season on record in the U.S., this is a problem that continues to receive more attention from government officials.
On Tuesday, NPR called the decision "a victory for an unusual coalition of opponents — including the natural gas industry, renewable energy providers, environmentalists and free-market conservatives."
While rejecting Perry's proposal, in the commission's ruling they emphasized that alternative solutions will be sought. "Although we terminate the Proposed Rule proceeding as discussed below, we are not ending our work on the issue of resilience," they wrote. "To the contrary, we are initiating a new proceeding to address resilience in a broader context."
On Wednesday, in a more explosive development, it was announced that New York City is suing five major fossil fuel companies, hoping to hold them legally responsible for the effects of climate change. At a press conference, Mayor Bill de Blasio also unveiled a plan to divest $5 billion of government pension funds from as many as 190 companies with fossil fuel ties. The mayor made reference to the 44 people who died in New York because of Hurricane Sandy, as well as the $19 billion in damages. After storm surge flooding knocked out grid power around the city during the superstorm, hospitals were forced to evacuate when backup generators failed to provide adequate energy.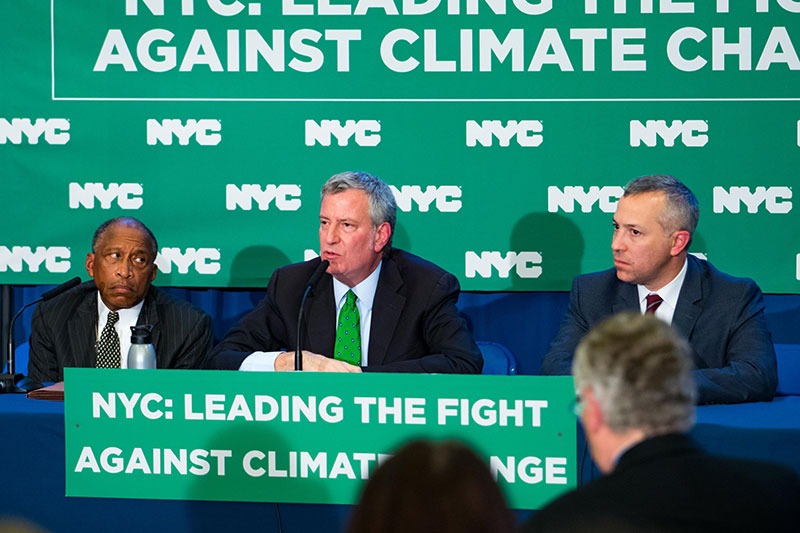 "That is the face of climate change," de Blasio said. "That is what it means in human and real terms."
While the suit is not the first of its kind to be attempted, it is the first to make heavy use of information that has come out in recent years indicating that fossil fuel companies were fully aware of the impact their products were having on the environment, even as early as the 1960s and '70s. Having come to these conclusions internally, however—going so far as to take preventative measures to protect coastal assets from the threat of rising sea levels—they went on to wage expensive PR battles denying the same.
De Blasio, who was joined for the announcement by leading climate activists Bill McKibben and Naomi Klein, said that as the leader of one of the world's most important cultural and financial centers, he hopes to blaze a trail that others will follow. "This city is acting, and we want other cities and states to act. People watch what New York does. We are going to lead the fight against climate change as if our lives depended on it. Because they do."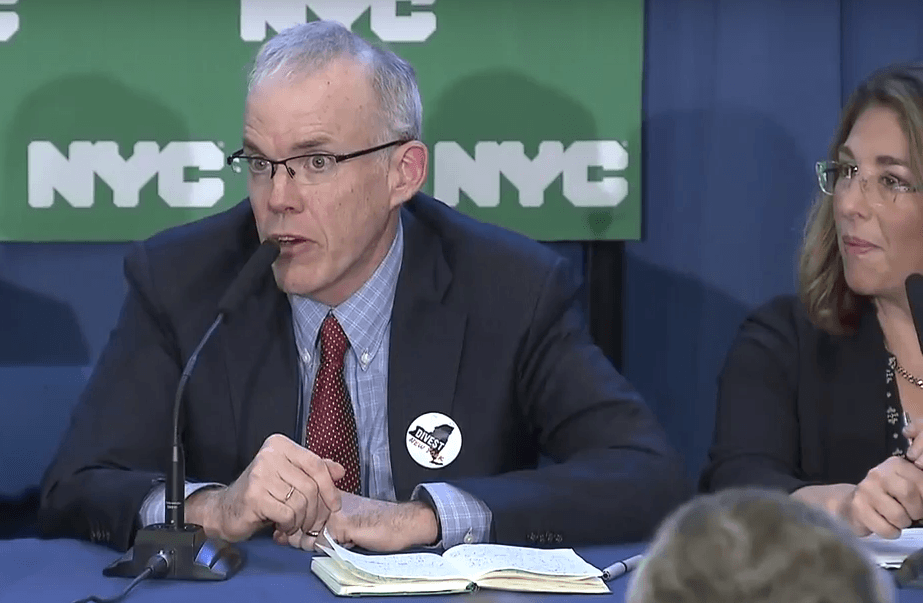 McKibben, long-time activist and co-founder of 350.org, called it "one of a handful of the most important moments in the 30-year fight against climate change."
As for the city's planned divestment, while $5 billion may seem minor in the realm of global finance, New York City is merely the latest institution to join a worldwide fossil fuel divestment movement which encompasses an estimated $5.5 trillion in holdings.
In November of last year, the central bank of Norway recommended that the government remove oil stocks from their $1 trillion sovereign wealth fund, in order to become "less vulnerable to a permanent drop in oil prices." Reacting to Norges Bank's announcement, Sasja Beslik, who is the head of an asset management unit at Nordea Bank AB, called it a "revolutionary" development, estimating that in 10 years oil and gas will be reduced to about a third of their current presence in most portfolios. "They're setting the bar for so many other institutional investors, not just in the Nordic region but around the world."
Less than a month later, at the One Planet Summit in France, the World Bank Group announced an even stronger commitment. The organization will no longer finance upstream oil and gas after 2019, and starting in 2018 will implement a "shadow price" for carbon emissions into their economic analyses of key sectors. Their December press release went on to detail avenues through which the World Bank Group are redirecting billions in funding toward initiatives aimed at reducing fossil fuel subsidies, encouraging green energy development, and enhancing grid resilience for vulnerable communities.
So, while it may take years for the courts to decide whether the fossil fuel industry will be footing the bill for the transition to more resilient and sustainable sources of energy, it seems clearer than ever which way the wind is blowing. As the effects of climate change transcend the domain of the theoretical and become the tragedies of the daily news, those in power are increasingly forced into action. Even if fossil fuel corporations are not compelled to discharge poetic justice by directly funding the green energy revolution, it will nonetheless be their legacy that innovators inherit as they react to and repair the ecological damage. As major cities like New York experience firsthand the hangover from fossil fuel dependency and demand alternative energy solutions, at the same time the financial world is accepting the gravity of the risks posed by carbon emissions. In turn, such forces are directing strong currents of funding toward renewables like solar and wind, charging a market that is set to boom for years to come.